Teamwork without boundaries with Surface Hub 2S
Collaborate and work together wherever you are with Microsoft Surface Hub 2S, the do-it-all digital whiteboard, meetings platform, and collaboration device packing the power of Windows 10. Now it's easier than ever to keep the teamwork flowing—all on a thin, light, and mobile device that goes wherever your ideas take you.
A powerful 4K experience to enhance teamwork
Whether a team is in the same room or spread across the globe, Surface Hub 2S is a powerful platform for Microsoft Teams and Skype for Business meetings that lets remote employees actively participate in meetings or working sessions.
Teammates no longer have to worry about not feeling "present" enough or missing out on real-time collaboration. With Surface Hub 2S, everyone is seen, heard, and can actively participate with the 4K Surface Hub 2S Camera, far-field mics, crystal-clear speakers, and a brilliant, 4K+ resolution screen.
Move from the first idea to the finished product without missing a beat. Streamline your group workflow through enhanced collaboration features like multi-user sign-in to simultaneously access and save content to the cloud.
Enable teamwork anywhere with the Surface Hub 2S, the all-in-one digital whiteboard, meetings platform, and collaborative computing device that brings the power of Windows 10 to teamwork.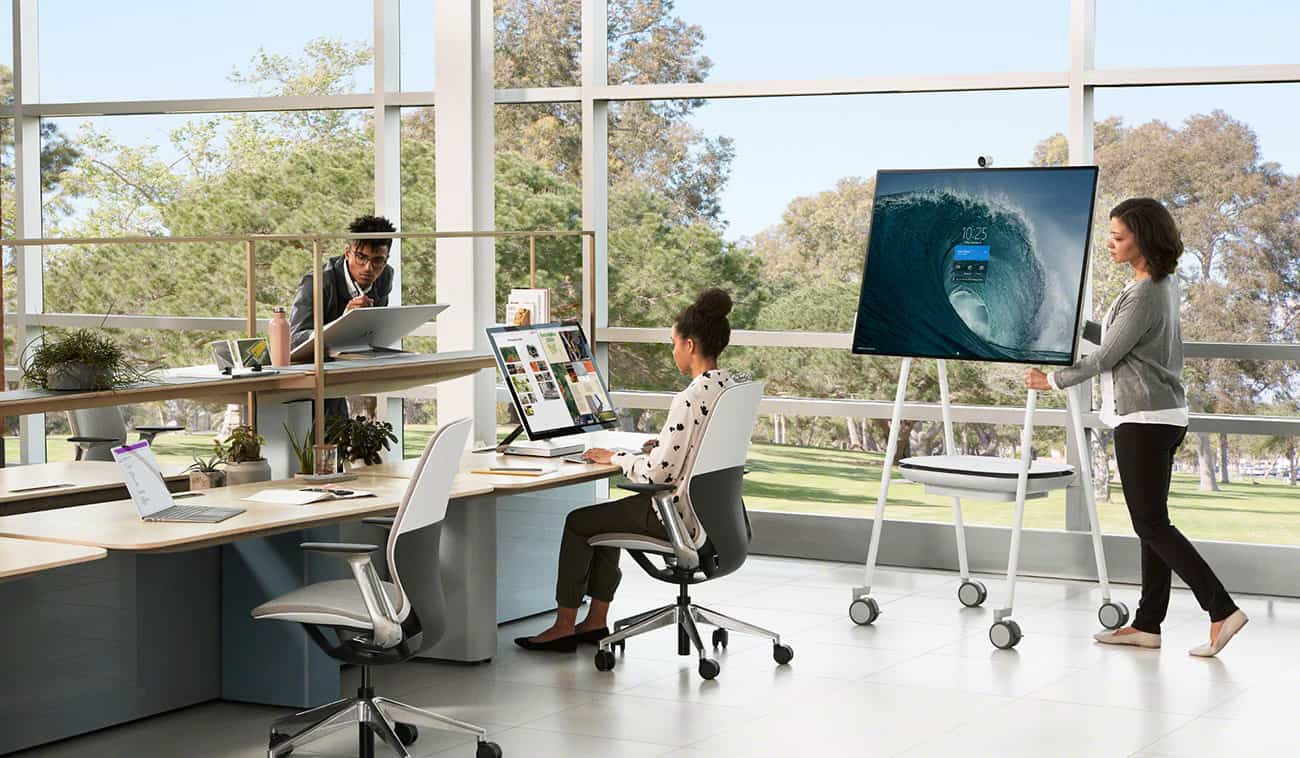 Take group collaboration to the next level
The Surface Hub 2S is more than a smart board or an interactive whiteboard. It's made for groups that want to connect, co-create, and produce with others regardless of their location. Surface Hub 2S brings together the best of Microsoft collaboration tools – like Windows, Office, Microsoft Whiteboard and Microsoft Teams – all backed by the intelligent cloud.
Much more than a giant canvas, Surface Hub makes it possible for remote team members to contribute their ideas to a virtually shared whiteboard. This is the kind of inclusive meeting experience that encourages people to work together, share ideas, and move projects forward.
Use it alone — for collaboration, presentations, and videoconferencing — or use it with laptops, tablets, teleconferencing systems, and more, since it comes with so many connection ports.
Make any place a teamwork space
Meet where you need to with the modern design and intuitive software experience of Surface Hub 2S.
Thin and sleek, Surface Hub 2S fits well into any workspace – from meeting rooms to open spaces. It's also lightweight and highly portable with a mobile stand so Surface Hub 2S can be wherever the teamwork happens. The optional APC battery allows collaboration to continue, even when your meeting room reservation is over.
A partner to realize your teamwork goals
As a Microsoft Gold Tier Hub Authorized Device Reseller and Surface Hub Partner of the Year finalist, AVI-SPL is an experienced digital services provider that can help you integrate the Surface Hub's capabilities into your environment. We support organizations globally to strategize, design, deploy, and support their Microsoft solutions and ensure business objectives are achieved.
Key Surface Hub 2S service offerings:
Surface Hub 2S on-site demo pool for on-site evaluations
Hardware, provisioning, configuration services
Global deployments
Project management
24/7 service contracts
Surface Hub integration for larger collaboration spaces